Custom Flatbed
Build your own body design easily around our Custom Flatbed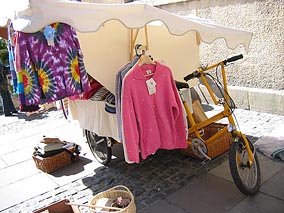 The Cafe trike and Jackie's Jumper Stall are built around our Custom Flatbed.

• Economically priced

• Rugged steel construction

• Lightweight

• Unlimited self build possibilities

• Mounting lugs for your custom built attachments

• Easily interchangeable with Pedicab/Rickshaw
body seat and cargo body

Hundreds of potential uses present themselves with our economical flatbed for self build.
Simply design and build your own body to do whatever you want it to, carrying payloads
up to 250kg - offering you the flexibility to handle all your local transport or trading outlet requirements.
All Cycles Maximus trikes feature: -
• Hand-built, rugged construction
• Differential drive
• High specification components
• Lightweight with aircraft-grade steel
• Hydraulic brakes
• Choice of interchangeable bodies
• 24 speed transmission (except
PowerDrive)


Electric Assist option
all of this results in a tricycle that is: -
• Extremely reliable
• Highly manoeuverable
• Easy and comfortable to ride
• Simple to maintain
• Very economical to run
• Zero pollution
More General Features
Standard colours are yellow and silver, which we generally have in stock - other colours have to be made to order
Red

Orange

Yellow

Green

Blue

Purple

Pink

Black

White

Gun

Silver

3001

2003

1028

6018

5015

4008

4003

9005

= RAL Number
Please note that this colour chart is only an approximate guide - computer monitors and graphics cards etc. can show these colours differently.
Click images to enlarge


Jim McGurn. Company of Cyclists
The Flatbed has an Electric Assist option
Also available as a Pedicab Rickshaw and Cargo Trike
Flatbed Trike Dimensions and Capacity
Please download*

our PDF to view Flatbed dimensions
* You will need Adobe Acrobat Reader on your computer for this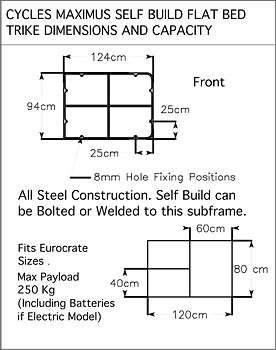 Sebastian Gonzalez. Cyclocity. Toulouse, France